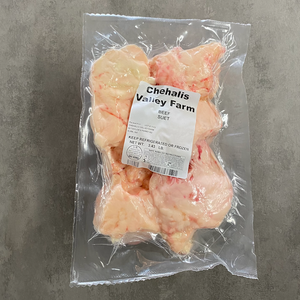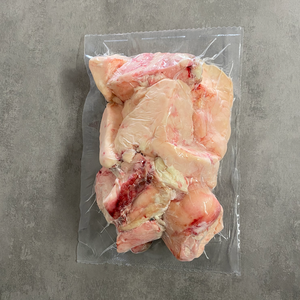 Beef Suet / Beef Fat
Un-rendered beef fat. Render this suet to make premium grass-fed beef tallow. 
Grass-fed, grass-finished and dry-aged. Sourced from a local farm in Elma, WA.
USDA processed. Frozen to ensure freshness.
This product is only available for local pickup and not available for shipping. 
Absolutely the best chicken's ever! So tender and flavorful. You can really taste the difference from store bought. Nothing compares. I just got a bunch at the farmers market today.
Farmers Market Customer
The chickens from Chehalis Valley are absolutely incredible; they taste like real chicken, have massive flavor, are raised in the best possible way and most importantly they are local, sustainable and from WA State.
The English Butcher
Beast and Cleaver, Seattle WA
Brought home some of Chehalis Valley Farm's forest raised pork last weekend from the Olympia Farmer's Market. Got bacon and two different sausages, some of the best pork we've ever tasted! The sausages melted in our mouths. Can't wait to try more!!
Farmers Market Customer