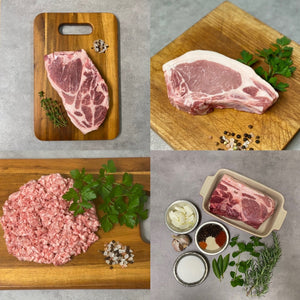 Pork Sampler Starter Box
Try out our most popular cuts. Over 7 lbs. of quality pork.
2 large pork chops, bone-in, 1" thick

1 shoulder steak, bone-in, 1" thick

1 shoulder roast, bon

e-in 

1 package of unseasoned ground pork, approx. 1 lb. 
USDA processed. Frozen to ensure freshness.

Our promise to you:

Raised in the forest

 

with large roaming and foraging area
Forage supplemented with non-GMO corn free and soy free grains grown without chemical fertilizers, pesticides or herbicides, sourced from Washington farms
No added hormones, steroids or antibiotics
Ethical and human treatment of the animals with responsible stewardship of the land
No chemical fertilizers, pesticides or herbicides used on the farm
Absolutely the best chicken's ever! So tender and flavorful. You can really taste the difference from store bought. Nothing compares. I just got a bunch at the farmers market today.
Farmers Market Customer
The chickens from Chehalis Valley are absolutely incredible; they taste like real chicken, have massive flavor, are raised in the best possible way and most importantly they are local, sustainable and from WA State.
The English Butcher
Beast and Cleaver, Seattle WA
Brought home some of Chehalis Valley Farm's forest raised pork last weekend from the Olympia Farmer's Market. Got bacon and two different sausages, some of the best pork we've ever tasted! The sausages melted in our mouths. Can't wait to try more!!
Farmers Market Customer