Old Fashioned Lard Soap - Calendula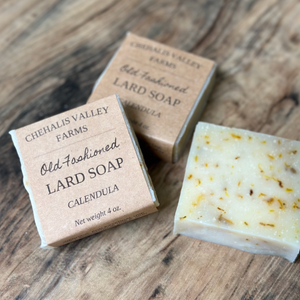 Old Fashioned Farm Soap
Calendula Lard Soap - Calendula flowers have antioxidant, anti-inflammatory and antifungal properties. This soap has both calendula flowers and lard infused with calendula flowers. 
4 oz. bar
Handmade on the farm in small batches from the lard of our forest-raised pigs. Lard makes for a hard bar of soap with a nice light lather that is mild and moisturizing to the skin.  

Ingredients: forest-raised pork lard, calendula infused forest-raised pork lard, sodium hydroxide (lye), water, calendula flowers, orange essential oil
For shipping throughout the US, visit our Etsy shop. Use code CVFSAVE10 for 10% off of your order. Flat rate shipping of only $3 and FREE shipping on all orders over $35!
Absolutely the best chicken's ever! So tender and flavorful. You can really taste the difference from store bought. Nothing compares. I just got a bunch at the farmers market today.
Farmers Market Customer
The chickens from Chehalis Valley are absolutely incredible; they taste like real chicken, have massive flavor, are raised in the best possible way and most importantly they are local, sustainable and from WA State.
The English Butcher
Beast and Cleaver, Seattle WA
Brought home some of Chehalis Valley Farm's forest raised pork last weekend from the Olympia Farmer's Market. Got bacon and two different sausages, some of the best pork we've ever tasted! The sausages melted in our mouths. Can't wait to try more!!
Farmers Market Customer